Vehicle Sold
1995 Range Rover Classic - Jethro
$84,995.00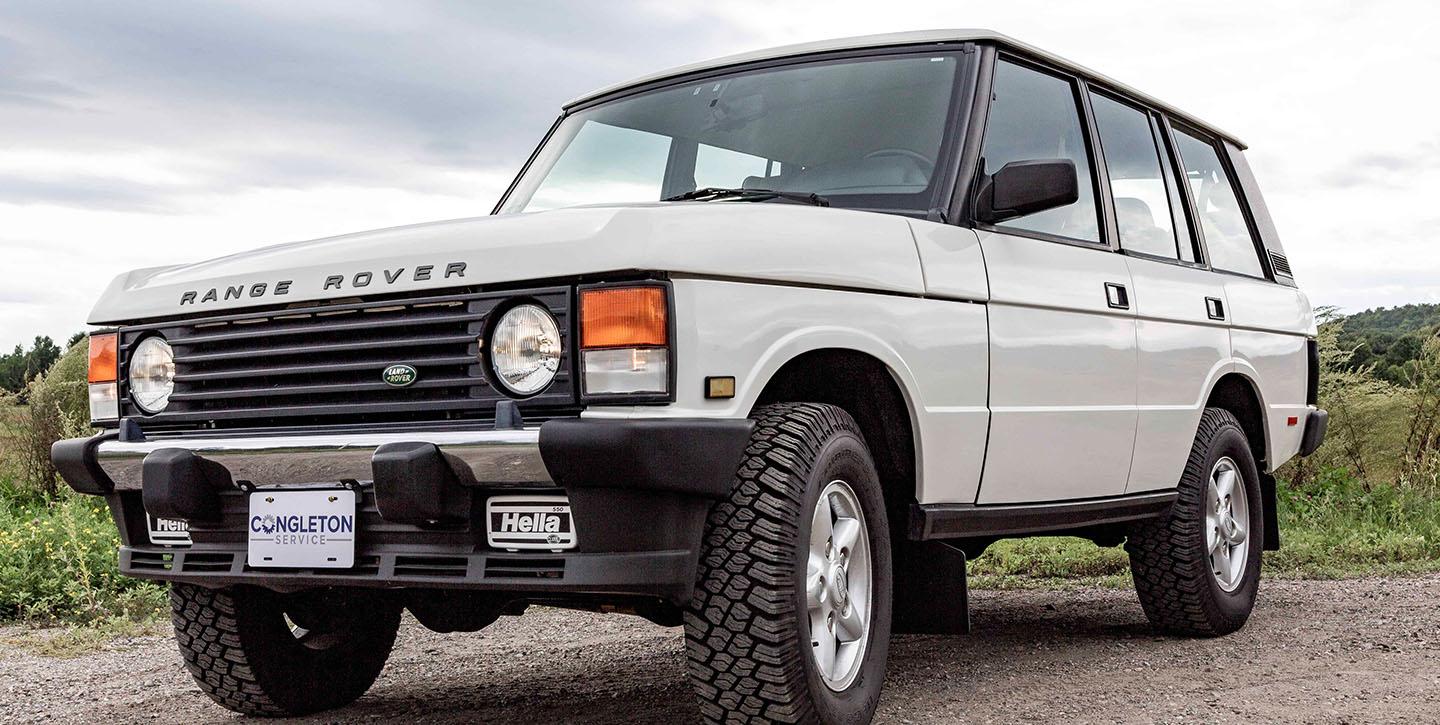 Vehicle Overview
---
This 1995 Range Rover Classic Short Wheel Base has been dubbed "Jethro" after the company's Plott Hound. Originally from Massachusetts It has gone through our Congleton certified interior restoration as well as the majority of our exterior process. The drivetrain has been completely replaced and only has 24k miles on those parts. This is a garage kept, corrosion free example owned by one of our longtime collectors and was mostly used for summer trips to New Hampshire. Our sales consultants can help with any other upgrades or services to be added to this restoration. This vehicle has a clean, accident free carfax.
Unfortunately, this vehicle no longer available.
Interior
Lightstone Connolly Leather
State of Origin
Massachusetts
Vehicle Features
---
CFC-Free Air Conditioning
Auto Dimming Mirror
Dual Electric Heated Mirrors
Electronic Cruise Control
Ergonomic Dash With Dual Control HVAC
Full Size Glovebox
Headlamp Washers
Headlight Auto-dim After Shut Off
Heated Front Door Locks
Heated Front Windscreen/ Wash Jets
Ignition-off Window Operation
Integral Trailer Hitch Receiver
Interior Lamp 10-minute cut-off
"One Touch" Right and Left Windows
Pop-out Cupholder
Rear Window Heater
Remote Keyless Entry w/ Security System
Power Windows and Locks (and Tailgate)
Power 8-way Front Seats – Standard Leather
Supplement Restraint System with Dual Airbags/ Knee Bolsters
Sunroof
Tilt Steering Wheel
New Components, Parts & Services
---
Headlight Bulbs and Lenses
Side Marker Bulbs and Lenses
Fog Lamp Bulbs and Lenses
Dust Strip
Front and Rear Bumpers
Crush Cans
Door Seals
Rear Louvres
L322 Badging
Lightstone Connolly Leather Upholstery
Lightstone Carpeting
Headliner
Burled Wood Dash Kit
Keyless Entry and Security System
Headunit with Bluetooth
4.6L V8 Engine
ZF 4 Speed Automatic Transmission
Transmission Filter/Lines/Gaskets
Performance Ice Box Radiator
Oil Cooler
Oil Change
Alignment
Complete Detail/ Exterior Wax
New BF Goodrich Tires
Additional Information
---
The exterior of this vehicle was completely repainted to a near perfect finish. To complement this, we added all new OEM light bulbs and crystal clear lenses to project much better than the original equipment. This includes the fog lamps, side markers and rear lighting as well. Rear louvres or D Pillars have been replaced by our Congleton parts and the bumpers, end caps and crush cans were also fully replaced. Badging has been updated to the L322 Range Rover Spec and our Congleton badging has been added to signify our craftsmanship as well as the time invested into the final product.
Our Congleton Interior Restoration process is extensive and this particular example has gone through that checklist with a fine tooth comb. Unlike most Range Rover Classics, the interior outshines the exterior of the vehicle. The leather work was done by a winner of the famous Pebble Beach Show and matches perfectly to the original upholstery. All new carpeting was installed on the doors, floors and even the spare tire cover. From there, a new headliner was installed as well as a brand new Burled Wood Dash Kit. Door seals have been completely replaced. The Harmon Kardon Audio system has been matched up with a new head unit and the keyless entry system fully updated to our in house system that greatly improves the range of the key fob.
Jethro's engine and drivetrain has been extensively upgraded. It received a brand new 4.6L zero balance replacement engine that features a brand new fuel map and parts that were forged, not cast. It also got paired up to the 4 speed ZF transmission with a Borg Warner Transfer Box. A new timing chain and plug wires improve idle noise while the new dynamatted firewall and under bonnet insulation help eliminate cabin vibrations under idle. The cooling system has been fully upgraded with our Congleton Icebox Radiator, new stand alone oil cooler meant to bring the average temperature below that of the coolant and new water pump. New, heat insulated firewall aids in the temperature management and improves how well the AC runs. The sump has been completely resealed.