Vehicle Sold
1995 Range Rover Classic SWB - Greenlight
$82,495.00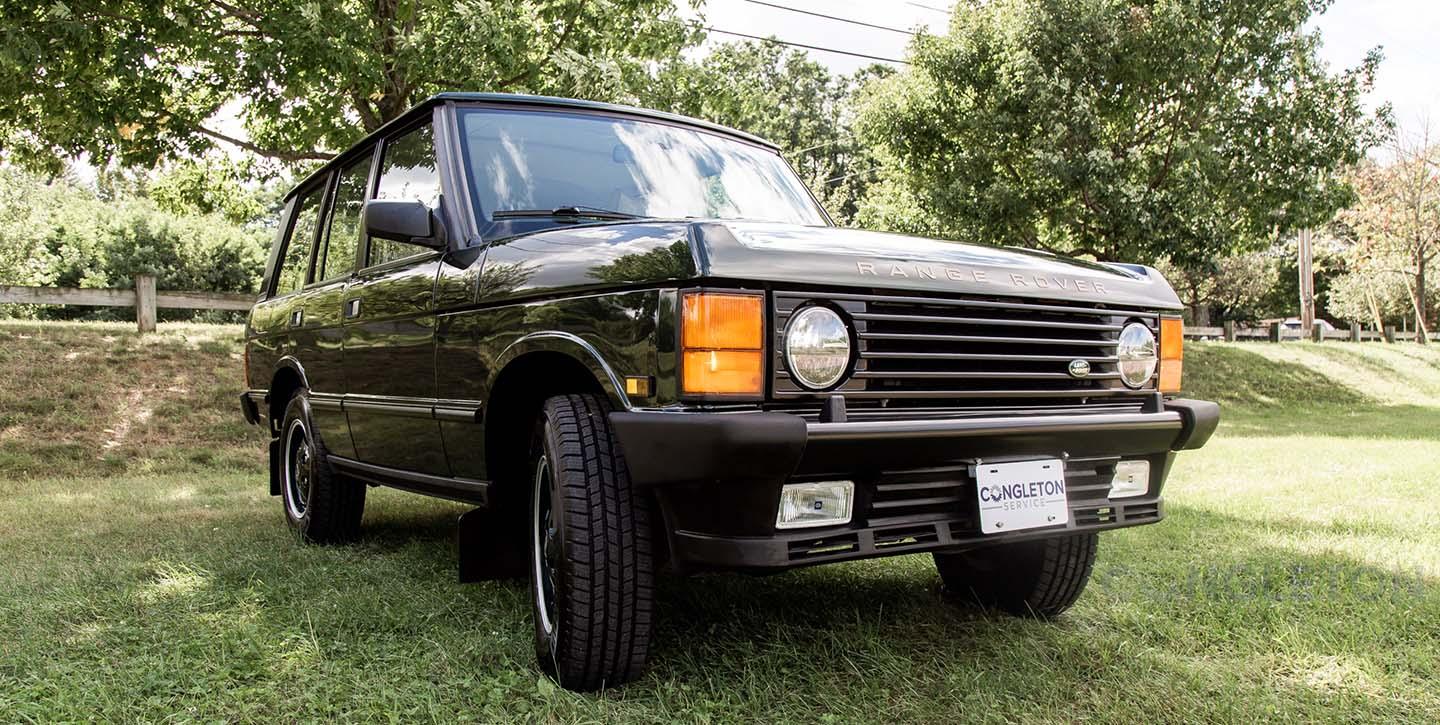 Vehicle Overview
---
Many of the vehicles we sell at Congleton Service require full teardowns that require us to start from scratch. Every so often though, we have the pleasure to work with a Range Rover that was treated like a member of the family, allowing us to focus completely on the finite details. Today's RRC 1995 SWB example fits the latter category and is a mostly original Classic. The service history spans 15 years with just one owner, an individual who understood the true craftsmanship that sat in their garage.  When Congleton Service took ownership, only the details were left for us to focus on which allowed us the opportunity to present one of our finest Range Rover Classics with mostly original equipment that has been fully sorted. All service records are available upon request.
Unfortunately, this vehicle no longer available.
Interior
Lightstone Connolly Leather
Vehicle Features
---
CFC-Free Air Conditioning
Auto Dimming Mirror
Dual Electric Heated Mirrors
Electronic Cruise Control
Ergonomic Dash With Dual Control HVAC
Full Size Glovebox
Headlamp Washers
Headlight Auto-dim After Shut Off
Heated Front Door Locks
Heated Front Windscreen/ Wash Jets
Ignition-off Window Operation
Integral Trailer Hitch Receiver
Interior Lamp 10-minute cut-off
"One Touch" Right and Left Windows
Pop-out Cupholder
Rear Window Heater
Remote Keyless Entry w/ Security System
Power Windows and Locks (and Tailgate)
Power 8-way Front Seats – Standard Leather
Supplement Restraint System with Dual Airbags/ Knee Bolsters
Sunroof
Tilt Steering Wheel
Additional Information
---
The focus of restoring this Classic were the finer points of the exterior.  Factory style brush guard was installed but only after a full powder coating to ensure it stayed fully uncorroded like the rest of the vehicle.  Our largest focus was put on a full rebuild of the tailgate and all related mechanisms including the liftgate lock, latch assembly, handle assembly and hinges.  Once this was completed, new front and rear bumpers with new hardware and dust deals were installed. While mostly original equipment, we did do a major overhaul of the lighting and wiper systems.  Headlights were replaced with our Truck-Lite HID system and the fog lights upgraded to period-correct Hella LED lights.  All front and rear wiper systems received a full restoration through replacing components and powder coating hardware.  Front washer jets and hardware also were replaced with the factory equipment.  With this work, the windshield and related seals were switched out to brand new equipment.  New tires with classic TWR 5-Spoke wheels.
On the inside, the vehicle was presented to us in very good condition to begin with, leaving us to work on the many electrical systems contained within as well as the doors.  All four doors were pulled off and fully restored which includes replacing the lifters, housing and switches for the windows as well as the door seals.  Finishing touches include new louvres with vents, instrument cluster surrounds and 3rd brake light.  Next in our process was replacing common wear items.  Stainless Steel Performance exhaust was installed while powder coating all brackets and hardware was done.  Manifold gasket, Y pipe and the o2 sensors all were switched out for new equipment.  Braking systems were fully sorted and replaced with genuine parts when needed.  Ignition systems also saw major upgrades which include the ignition coil, starter, spark plugs and plug wires which all were upgraded to larger capacity parts.  Another big project upgrading the air suspension system with factory coils, bushings and configuring a new steering damper to help with wheel shake over bumpers.
All in all, this Range Rover Classic drives better than it was new while still retaining the original feel and classic look.  The mileage is extremely low and the owner of most of the vehicle's life took extremely methodical care of this rare find.  Don't miss your chance to give this well-sorted Range Rover its new home for the next 15 years or even more.  Original examples of these are becoming few and far between.