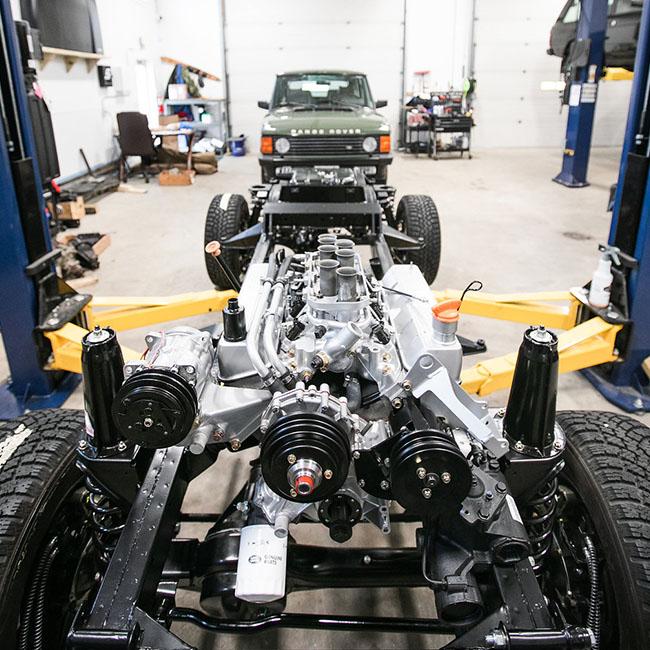 Land Rover Engine and Drivetrain Repair and Service in Vermont
We specialize in engine and drivetrain rebuilds and replacement for all Land Rover models. From top of engine rebuilds to transmission and differential repair we'll ensure your Land Rover is safe and ready for your next adventure.
Our Land Rover Engine and Drivetrain Specialties
Nobody understands your Land Rover, Range Rover, Defender, or Discovery's engine and drivetrain better than the team at Congleton Service, the Rover specialists of Vermont and New England.
Major and Minor Engine Repair
Engine Rebuild
Driveshaft Replacement
Drivetrain Resealing
4×4 System Repair
Transmission Replacement
Frequently Asked Questions
That would depend on the condition of the engine. We certainly prefer to have an original engine in our restorations, though it is not always feasible. We have endless experience rebuilding, and building new engines, and our Spectre 5.0 liter is top of the line when it comes to performance and reliability.
Yes, absolutely. A new or certified rebuilt R380 or ZF automatic can certainly handle the power. Our gearbox rebuilders both here in the states as well as trusted suppliers in the UK are doing fantastic upgrades to these old designs.
Certainly. We wouldn't recommend you add 35s on stock shafts or diffs, however we have never had an issue with our rebuilt diffs or axle shafts.