Available
1976 Land Rover Series III
$36,000.00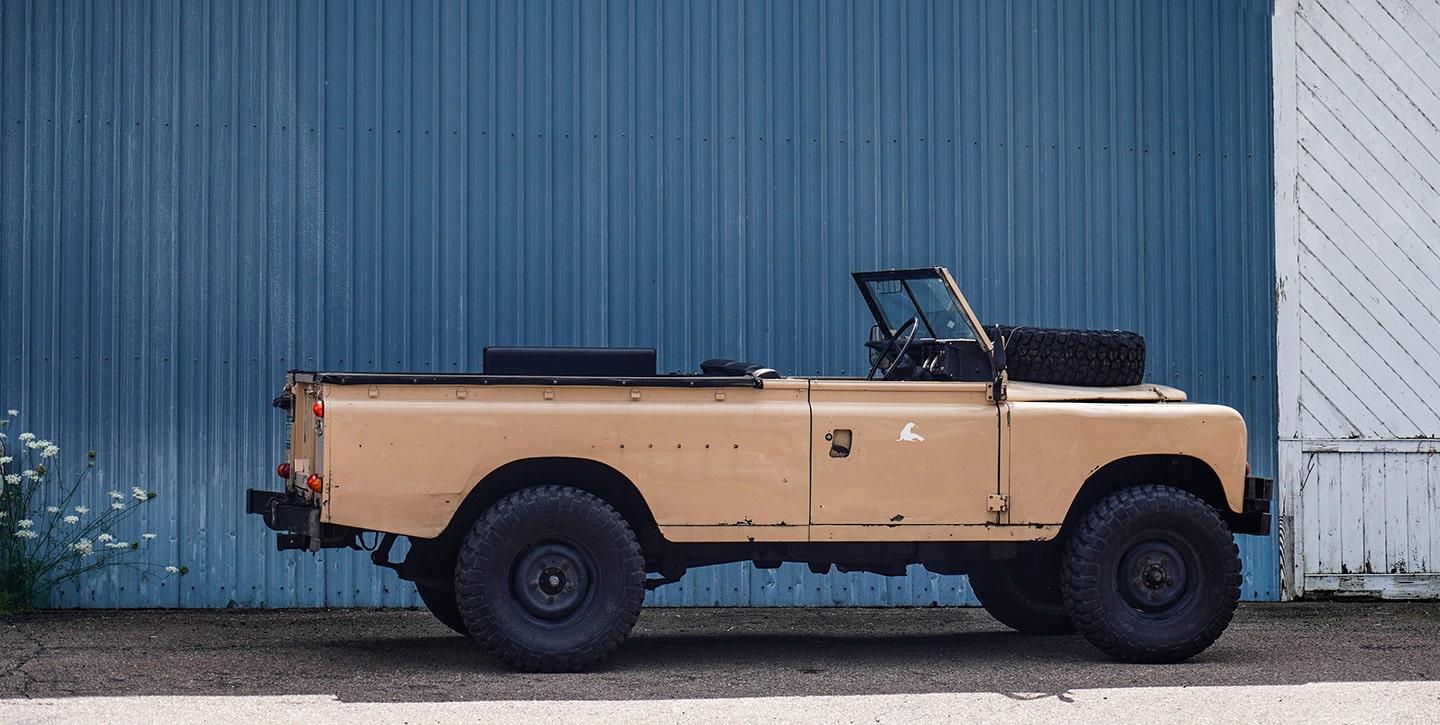 Vehicle Overview
---
This right-hand drive 1976 Land Rover Series III has been in the CS family for 10 years as one of Taylor's personal vehicles. This 109 was originally a MOD truck that was imported to the US after its military service. It has less than 12K miles on it. Many of the MOD trucks did not see a lot of miles but have very high idling hours. For this reason and others, a new motor and transmission package was installed last year and has less than 1K miles on it. The package was built by Rovers North of very high quality and has a good aesthetic appearance for an engine bay. It also has a high ratio transfer box. The truck is capable of 65-70 mph and because of its heavier rims, larger tires, and upgraded shocks, it rides very well for a leaf sprung truck. Sometimes Series trucks just hit really hard, but this is a nice exceptional ride, even on the interstate.
A background story from Taylor: This is the only Series I have ever owned, and I built it to mimic a Land Rover movie poster style ad I saw from the 1960s. I haven't been able to find the ad in years, but it is burned into my memory. It was a hand drawn Series pickup 109 driving through an oil field. It was so cool and stuck with me forever. The pickup was just a pickup, no hard top and the windshield was of course folded down. I love that look and when I purchased this Series I immediately removed the top, sides, and door tops to make the ultimate summer convertible. I also added a rear bench seat for extra company. After changing the engine and transmission I took the Series on a 300 mile day long stress test from Burlington VT to Mount Washington and back. And I mean to the top of MT Washington on a 80 degree day. She performed flawlessly and was the talk of the mountain. After that adventure, we stored her for the winter and took her back out this spring. The front brake cylinders failed so I did new cylinders and shoes on the front, upgraded shocks, and installed black steel wheels.
Interested in this Vehicle? Call to Inquire.
1-802-879-0200
New Components, Parts & Services
---
New engine and manual transmission completed last spring
Radiator
Carburetor
Starter motor
Alternator
Front brakes shoes and cylinders
Auxiliary fuel tank and two-way fuel change over tap
Steering wheel
Truck-lite headlamps
Water-proof Bluetooth stereo
Custom instrument gauges
Waxoyl applied to underside
Custom waterproof covers for the vehicle