Vehicle Sold
Congleton Certified Vehicle
1995 Range Rover Classic – Project T.C.
$240,000.00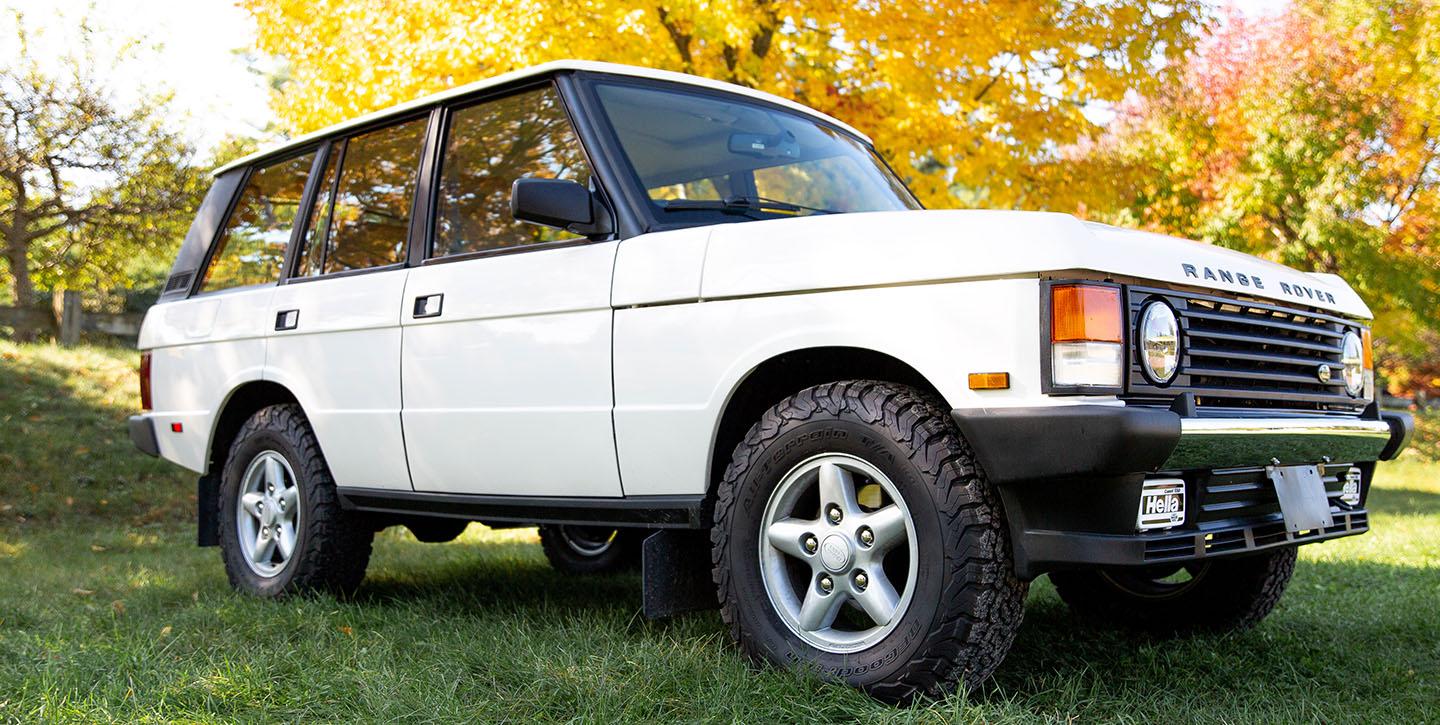 Vehicle Overview
---
This vehicle is Congleton Service's first Certified Restoration that was built without a customer in mind. This is interesting to note because it allowed Taylor Congleton to design and build the vehicle per his own specifications, choosing finishes to recreate a factory spec truck suited for 2021. Our Certified Restoration vehicles are complete overhauls and rebuilt from the ground up (typically more than once). This requires thousands of hours of labor. We built an entirely new drivetrain and there are all new components. The new Congleton Performance 4.6L Engine and new Dyno-tested ZF 4 HP 22 Automatic Transmission ensures a powerful and smooth ride. Congleton Certified vehicles are unlike any other restoration on the market. We are happy to customize finishings for the future owner but are confident that with its current impeccable choices, the next owner will be more than pleased.
Unfortunately, this vehicle no longer available.
Engine
Congleton Performance 4.6L Engine
Interior
Sorrel Tan Leather
State of Origin
California
Vehicle Features
---
Rebuilt drivetrain
New Congleton Performance 4.6L Engine
New Dyno-tested ZF 4 HP 22 Automatic Transmission
New BorgWarner transfer case
Bluetooth integrated
Keyless entry rebuilt
Anti-lock brake system rebuilt and enhanced
New Connolly leather hand stitched
Dynamat Xtreme installed throughout for sound deadening
BF Goodrich All Terrain T/A KO2 tires with refinished TWR Wheels
Truck-Lite Headlamps
Waxoyl treatment on vulnerable parts
All new components or rebuilt to original specifications with improved quality and performance
Additional Information
---
Our experienced technicians and our founder Taylor Congleton disassembled and reassembled this vehicle with astute attention to detail. All 7400+ parts and components were removed, evaluated, and organized. This process typically happens twice with our Certified vehicles to ensure adequate attention has been given to each part and the final product is up to Taylor Congleton's high standards. Most parts were replaced with new Genuine Land Rover parts, aftermarket options that exceed original spec, and rare original components were sent to specialists to be refinished. We powder-coated many parts including the chassis and axles to ensure longevity and integrity, along with a sharp satin black finish. In addition to paint and powdercoat, the most vulnerable pieces were treated with a top coat of Waxoyl as an additional layer of protection. This protects these areas from seeing any moisture that can compromise the integrity of the build.
Once the vehicle was completely disassembled and moved to paint and powder-coat, our expert techs rebuilt a new drivetrain, starting with the Congleton Performance 4.6L Engine. We handcraft the finest Land Rover V8s in the world for additional performance, improved reliability, smoother operation, and increased efficiency. Rover V8s are famous for overheating and our liners address the true root cause of most overheating issues. This engine underwent a high performance ceramic flow treatment through the water jacket, solving the "porous block" problem that Land Rover engines are known for. This coating is extremely reliable and durable and allows the motor to disperse heat in a much more efficient and uniform manner. And yet, the vehicle still retains its Rover V8 heritage and appearance when you open the bonnet.
This vehicle has a new ZF 4 HP 22 Automatic transmission. The transmission was Dyno tested to ensure smoothness of shifting and proper shift points, as well as ensuring that the clutch & clutch packs are functioning properly after the rebuild. This is the highest quality drivetrain solution offered. The BorgWarner chain-driven transfer case is a smooth operation and the transfer case was replaced with a new redesigned piece that eliminates the oil leak that is common on the original case and has new parts where needed.
As a later-year Range Rover Classic, it has an amazing anti-lock brake system but we rebuilt it to better-than-factory specs for significantly more reliable performance and safety.
The Connolly leather in this vehicle is truly amazing. When rebuilding, we sourced the correct Connolly leather in all of the original Sorrel color and returned the vehicle to its original factory appearance. The seats were stitched exactly like the original. Interior parts that are in disrepair were replaced or recreated. The wood inserts were refinished with the finest Burled Walnut available on the market. For additional user ease, we integrated Bluetooth music and phone. The vehicle also boasts a rare factory Land Rover NAV/ upgraded stereo head. The original factory keyless entry systems were rebuilt and made fully functional and long-lasting. We installed Truck-Lite Headlamps which provide radically more light than the original sealed-beam halogen units.
The chassis was stripped, primed, sanded and we painted the chassis and panels in their raw metal and fully disassembled form. We don't use fillers or take any shortcuts to create straight panels. Our paint improves on the original methods and provides additional protection to the chassis and exterior panels and utilizes modern longer-lasting paint. Copious amounts of Dynamat Xtreme soundproofing was added to the roof, floor, bulkhead, door panels, and corner panels. This, coupled with the smoother-running serpentine engine, creates a cabin that approaches the quietness of modern cars.
This vehicle is an amazing example of Congleton Service's quality, expertise, and ownership in the restored Range Rover Classic space. It is a rare opportunity and the only instance that a Congleton Certified vehicle has been available for sale on the market.